Hey, I'm Janine.
A huge thank you for swinging by and reading me. And if you've ended up here then you're probably wondering who the hell I am and wanting to know a bit more.
So who the hell am I?
Well, I'm a free-spirited 40 year old redhead (and proud!), newlywed, step-mum (2 kids and my fur-child), daughter, sister, friend and mentor.
I've battled anxiety for the longest of times and am a depression fighter, recoverer and survivor. After embracing me introvert nature (along with my extravert nuances, like laughing really loudly and sticking up for the underdog), I am now attempting to focus on my overall self care and wellbeing.
A corporate world drop out following numerous burnouts, I'm now a writer, blogger, author, mental health advocate and speaker, and have openly been sharing my mental health and wellness journey for the last 6 years. I'm also a digital marker for not-for-profits.
For years I hated and denied who I was.
I thought I was a weirdo for years because I was so shy, so sensitive and emotional. I was also a chronic people pleaser. A prime target for bullies and gossips, my sensitive nature led me down a dark path, one which I struggled for years to step off. On top of that, I body bashed myself to the point of an eating disorder, drank way too much, and ran myself into the ground more times than I would like to admit. Burn out after burn out, most of the time I didn't stop until I burnt out. Or I would just sleep my life away. There was never really an in between, unless you count the times I was barely clinging on and just going through the motions, physically present but emotionally exhausted.
Man I was so lost, unhealthy and just bloody unhappy!
It's taken me a long time to get here, to this place. A place where happiness outweighs any other feeling. Where I have drive. Where I have energy. Where I have self belief.
It's a constant journey, and I'm no wherever perfect. I still fuck up, I eat way too much junk food, drink too much wine, and I hold myself back and fear failure. But I'm getting there. I am my own work in progress.
So welcome to my journey.
I hope you will stick with me through the ups and downs, and hopefully I can help you through yours by sharing my story, experiences, tips, and resources with you. After all, life is hard and it definitely helps to remember that there are others out there doing it tough as well, that they are surviving, and that they are your very own cheer squad!
My most popular post: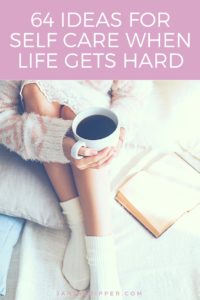 Read more about my personal story here:
Bullying & Depression – MY Story
Getting hitched & spooning babes from my loins was never part of my plan
Stuck at a crossroads – What I learned after 3 car accidents
In the Media
An interview with Rodger Hoefel from Like-Minded Magazine.
What the readers say about Janine Ripper
Through your words you make it easier for me to own who I am, what I have been through and where I want to go, thank you. – Mackenzie
A great and inspiring story. I love the honest and open way you talk about the difficulties you've had. So many people struggle with these issues but not enough people talk about it. – Maria
I love the honesty, the learnings and your passion. Your story will resonate with many – Loewn
Thank you Janine – it's so nice to know I'm not alone in this journey! – Fiona
Professional Bio – Janine Ripper
Janine Ripper is a Freelance Writer, Blogger and Mentor. After a 12-year career in Project Management and a number of burn outs culminating in 3 car accidents (the last in her own driveway), she decided an urgent change was needed and left the corporate world to finally live the life she wanted whilst focusing on her own health and pursuing her lifelong love of writing.
Depression survivor and anxiety fighter, Janine is now an advocate for mental health due to her personal experiences, and hopes to combat stigma and inspire others in their journey through recovery and beyond by sharing her story.
Check out a snapshot of Janine's writing portfolio here and refer to her Media Kit here.
If you believe we can work together on your cause or passion project, contact me now.
For sponsorship, reviews, and other matters, refer to my Disclosure policy here.