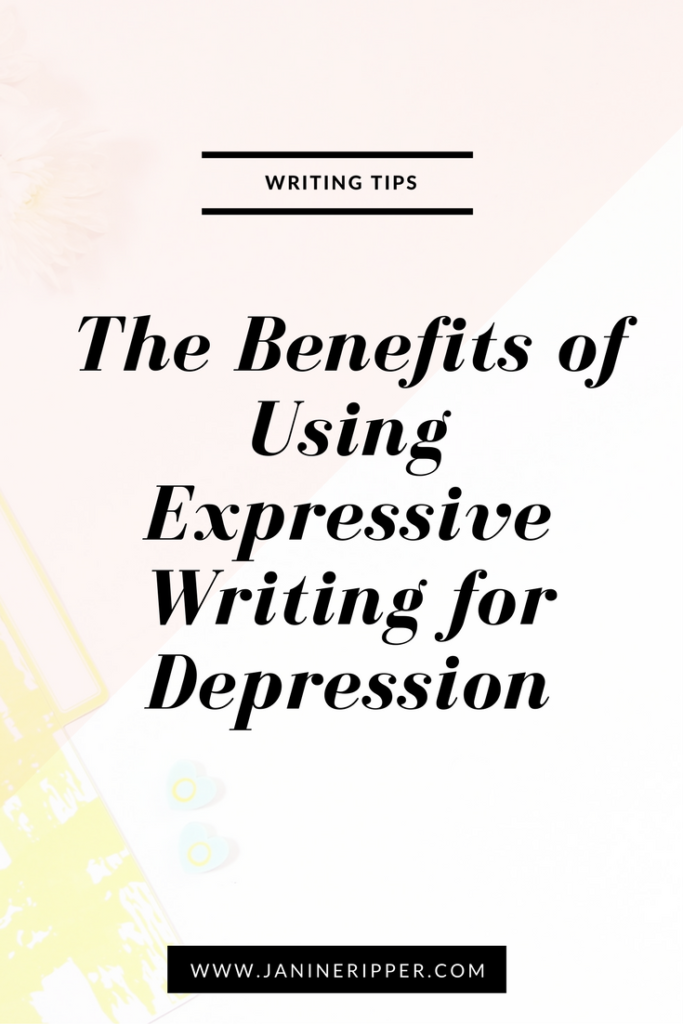 I'm a big believer in expressive writing to help heal from depression.
Over the last 6 years – the life of this blog in fact – through reflecting, writing, and sharing – I've come leaps and bounds, healing both mentally and physically, growing and changing.
Peeling off your layers and delving into your depression and any related 'baggage' can be emotionally challenging and physically and mentally exhausting, therefore embarking on a journey of writing to explore your depression should be done slowly and gently. This should not be thought of as a replacement to therapy. That's what therapist's are for.
Expressive writing is a tool for self-reflection.
It's a way to explore, using the written form, how you feel.
It's also a great way to get those thoughts out of your head!
Expressive writing is simply a way of expressing yourself through writing:
…the process of putting your thoughts, feelings and experiences into words. Expressive Writing is what you are doing when you write in a journal or a diary, although don't let that limit you.
Much of the work on expressive writing has been led by James Pennebaker, a psychology professor at the University of Texas. In the 1980's, Pennebaker found that writing about life's stresses helped people heal from both physical and emotional ailments.
In one of Pennebaker's experiments, college students were asked to write for 15 minutes a day about an important personal issue or superficial topics. Afterward, the students who wrote about personal issues had fewer illnesses and visits to the student health centre. (Pennebaker,JW. (2004) Writing to Heal: A Guided Journal for Recovering from Trauma and Emotional Upheaval.(18-26))
Here's some further tips to consider before you get started:
Write when you feel you are ready.

Write when you have your support structures in place.

Writing does not replace therapy. It compliments it when done gently.

Beware of trigger points. If anything feels too much to write about stop and try something different.

Write when you have the time. Otherwise free up some time so you don't feel pressured.

Expect to feel wiped out after writing. All going well you will feel a bit better after a few hours.

Don't worry about perfection – grammar, spelling, structure. Throw it all out the door and write how you feel, even if it seems like nonsense.

Be gentle on yourself. Tune out of your inner critic.

Keep it personal and keep it for your eyes only.

If you feel like sharing, do so only when ready and with your trusted network.

Don't censor yourself

Write continuously for an allotted timeframe i.e. 2 or 20 minutes.

Start slowly.

Know when to stop and walk away.
Writing prompts to help you start using expressive writing
Take a deep breath and close your eyes for 10 seconds. Tune in to how you are feeling right now. Physically and mentally. How are you are feeling? Write about it.
Describe your depression. What does it look like? Using descriptive words, write about it's shape, size, colour, smell, and more. Is it a black dog, a dark cloud, thick fog, a shadow, veil, or something else? How does it act? What does it say?
What helps you get by? Share your tips. What are your go-to resources? Here's a post I wrote. With a little help from my friends.
Write a list of things that make you happy.
Write about the person/s who have helped you most in your journey with depression.
What is motivating you to write to ease your depression?
If you are stuck as to what to write about, focus on that. Why do you feel stuck? What is preventing you from writing? How does this make you feel?
How does your depression make you feel?
Write about something you are thinking or worrying about
Make a list of the people in your life who support you and who you trust. This will be a great guide in future.
What do you wish others knew about you and your depression?
Write the words you need to hear.
What do you do to take care of yourself? To practice self-care? If you don't do anything, what could you do?
What is one successful thing you've done to help you manage your depression?
Write a gratitude list. Make this a habit. Do it monthly, weekly or daily. Here's an example of one I wrote.
Have you ever been treated differently or felt stigmatised in regards to your depression? What happened? How did this make you feel?
Write a thank you note.
What has and hasn't helped you manage your depression?
What memory do you cherish the most?
Write a letter to someone who has hurt you. *trigger warning*
Think about the first time you can remember being depressed. What happened? How did you feel? How did you get out of it?
---
Love this article? You might love these.
105 Writing Prompts to Guide you in Self-reflection and Self-discovery
7 Tips for writing about trauma
10 Ways to Ease Depression With a Pen
Don't forget to subscribe to my newsletter.
Join our list
Subscribe to our mailing list and get interesting stuff and updates to your email inbox.