Learning to say no is a lot harder than it sounds. But once you get past the fear of letting the teensie weenie little word pass your lips and through your mouth, it can be empowering!
I wish I'd learnt to say no a lot earlier in life but sometimes (more often than not) I insist on learning things the hard way!
I mean, why is NO such a hard word to say?
No, I don't want another drink.
No, I don't want to go out tonight.
No, I don't actually want that job.
No, I can't commit to anything else at the moment.
No, I can't do overtime.
Aside from being a people pleaser, I used to believe in working hard as an overall value. The harder I worked, the more I pleased, the happier people were with me and the more they wanted me. Hard work defined me. Success defined me. Awards defined me. And praise, well, praise sustained me. So there's no surprises I burnt out, too many times.
I also believed that selflessness was admirable.
To serve others. To help people. That was my priority. After all, it made people happy.
Like I said, I was a people pleaser.
On top of that I was entrenched in a corporate culture of 'yes men'.
As someone who lacked confidence and was very shy, I hated confrontation of any form. So in saying yes to everything I avoided all sorts of confrontations, even to my detriment.
I really just wanted people to like and be proud of me. I was so needy. I also equated saying no with letting people down. With upsetting them. With disappointment.
Sound familiar?
So what changed?
I was so stressed out people pleasing and saying yes to every opportunity that came my way, I ended up sick from stress and burnt out…over and over and over [read more of that in I am not wonder woman]
I was also rudely awoken to the fact that, to some degree, I was naive and gullible. *Shock horror* not everyone held their best of intentions for me. In fact, some of them had or were using me.
It took me until my 30's to finally grow a pair.
It took me a lot longer to start saying no without stressing about it for days beforehand and ending up an anxious mess.
It took me even longer to say no to their faces and not via a sneaky text message.
Okay, it was a lot more complicated than that but learning to say no started from sitting down to do a simple brainstorming exercise where I delved into my values and priorities in life. I mean, what were they? Obviously I wasn't living according to them!
After sitting down to figure out my personal values I became clearer on what I DIDN'T WANT in my life – which, as it turns out, was a lot of stuff! Stress, politics, working myself to exhaustion, gossipy people, I didn't want any of those. What I valued, what I wanted my priorities to be, were my family, who I hadn't had time to see. And my friends, whom I had become distant from. My health, both physical and mental, was generally terrible. Work, a career doing what I loved. Hmmmm. And then there was elusive happiness…which was no where in sight. I needed to make some serious changes.
Saying NO is a way of reclaiming power in your life.
Today I use my core personal values as a 'guiding light' to decision-making in life. If something isn't sitting right with me, such as, if I'm feeling sick in the pit of my stomach, then I make sure I stop to analyse WHY I'm feeling the way I am. Is it because I ate something dodgy? Or is it because I'm not sure it's a good move in saying yes to that job offer, especially when it's NOT related to what I want to do!
I also need to keep myself in check as it's so easy to fall back into the 'yes' trap! And of course, there are still times when I don't listen to my 'guiding light' – or my body shouting at me – and commit to things I shouldn't have. There are also times when I have to suck it up and do things I don't want to do. I mean, there are such things as relationships and compromise, so 'I will watch that football game with you love', and, as it turns out, 9 years later I now like football and root for Liverpool FC!
How to learn to say no
The easiest way to learn to say no is to practice, and believe me, it takes time, hard work, self-reflection and continually reminding yourself of what you do and don't want in your life.
Starting small is the best way to start. For example, "No, I'll pass on the takeaway coffee this morning" or "No thank you. I've had enough to eat."
You can then build up from there as you get more comfortable saying the word NO. "No, I'm going to head home instead of going out for drinks after work" or "Thanks for the invite, but I have a big week that week so I'll pass", or "No, I don't want/need another glass of wine."
The more you do it, the easier it will become, so much so that you will eventually be able to say no without having to justify it – and not feel guilty about it!
So go on, give it ago. What can you say no to this week?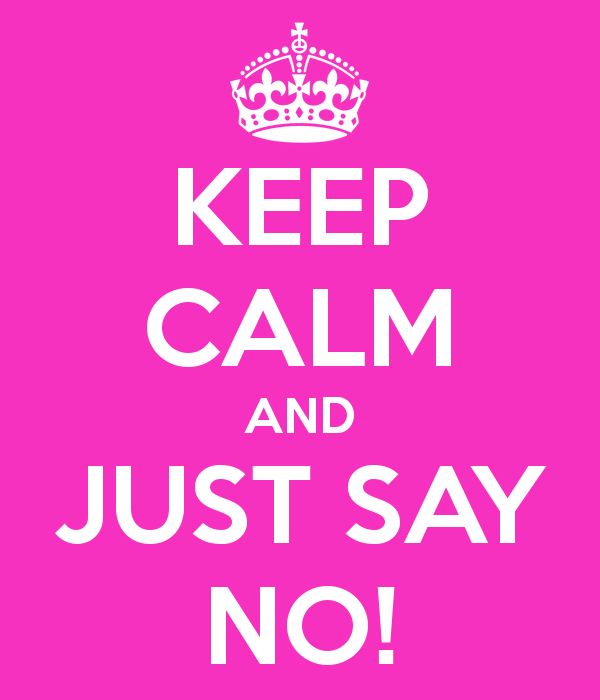 P.S. If you loved this, you might also love these:
Learning to love yourself again
NEVER deny your struggles. They are an important part of your story!
Join our list
Subscribe to our mailing list and get interesting stuff and updates to your email inbox.