If you've ended up here you're probably on the search for some inspiration to help ease a number of crisis' you may be having triggered by your impending 36th birthday.
Well, have I got good news for you!
Life only gets better as your 30's progresses so stop freaking out, stop entertaining thoughts that life is over, stop telling yourself that the best years have gone, that you should have done so much more by now, blah blah blah, for your life isn't over AND in all seriousness, your best years are still ahead!
From personal experience, life in my 30's has turned out to be a lot better than expected. Actually, I'd go as far as to state it's been fucking awesome! It's certainly been a hell of a lot better than my teenage years and twenties!
This post – 20 reasons why turning 36 is awesome – was written just prior to my 36th birthday, and I'll fess up and say that true to every word I wrote, life is still fabulous (and chock full of learnings!).
Here's 20 reasons why turning 36 is awesome!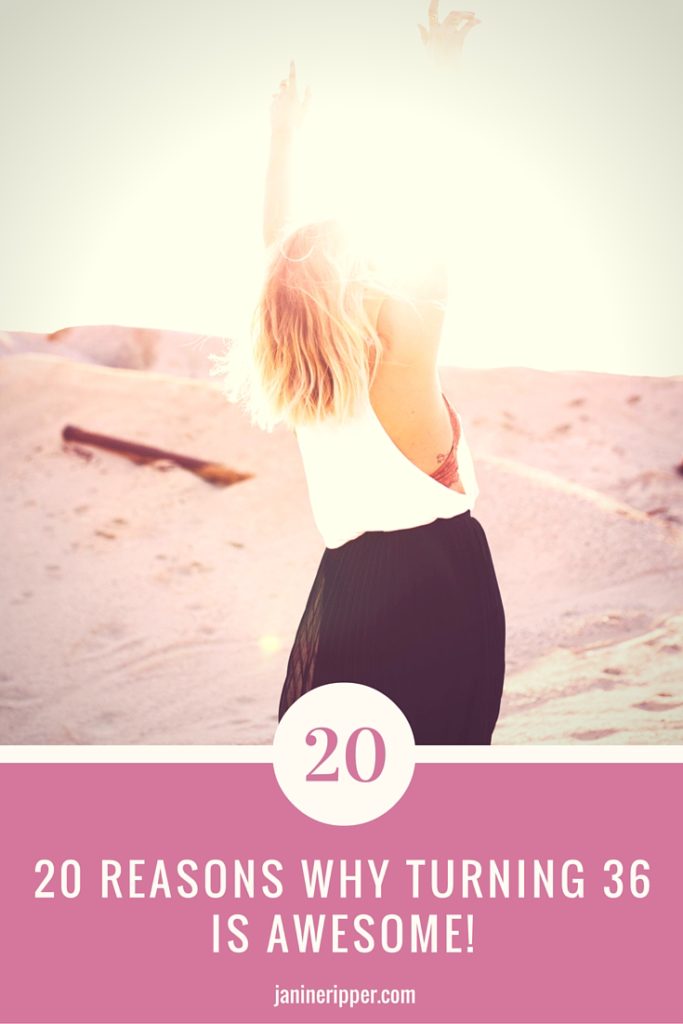 1. Confidence
Confidence is the bomb. Confidence is sexy. Confidence is also liberating.
At the age of 36 I feel more and more confident each and every day (okay, I still have small periods of anxiety). I also walk taller and I back myself and not doubting myself. It feels AMAZING to finally feel confident about how I look, what I think, who I am, what I do and what I want to do. It's also liberating to have the confidence to do and say and wear whatever the hell I want! I just wish I'd gained it sooner.
2. Clarity
Gaining clarity in your life in ANY area is clearly awesome!
I may never be totally clear on what I am doing or what the future holds for me, but I am so much clearer on what my priorities are at least! Health, love, family, happiness, creativity, and having time to smell the roses – these ARE my priorities. I may occasionally forget… but they are definitely so much more of a focus now, ensuring that I am actually looking after myself these days and am a hell of a lot happier than I was:)
I'm also a lot clearer on what I don't want anymore, which makes it so much easier to actually say no to things. I no longer say yes to every opportunity delivered my way, and it's one of the best things I have ever done.
3. Developing your true sense of style
I must admit that I never really had any sense of style until I hit my 30's…These days I'm more playful and experimental with my personal style. I'm really enjoying mixing things up – a dash of 1950's glamour here, some funky dresses there, differing hair styles and shades of red (because I do need to colour it these days – one of the cons about turning 36).
4. The benefit of hindsight
I actually never expected this to happen, but I now look back at my teenage years with both distance and fondness. Distance in the form of decades really helps to make things so much less cringeworthy, or, at least, bearable! I also highly recommend attending your high school reunion – after years of suffering from high school trauma and angst, I finally grew some balls and went to my 20th high school reunion and found it to be therapeutic and not-so traumatising! I even saw my old high school crush AND had fun. Ha. If you'd asked me that 5 years – or even 2 years ago – I would have laughed!
5. Life is all about the little things
It really is the little things that count. A good coffee. A glass of wine. A nice perfume. Sunshine on a cloudy day. Pretty, colourful clouds. A cozy blanket. A hot shower. Hugging your fur-child and partner on the couch. Food…my list can go on…these days life is all about the simple things in life.
6. 36 is the new 26
The other day I got asked if I still lived at home. Yeah, I do still feel like – and apparently look like – I'm 26 (aside from the white hairs and aches and pains).
7. Resilience +
Yes, I still have my moments, but I am definitely so much more resilient these days. I continue to amaze myself at how much stronger I am. I also amaze others, which is an added bonus!
8. Rediscovery
I love nothing better than rediscovering old music, movies, TV shows, photos, technology, style and fads from 'back in the day'. It's so much fun to sit and reminisce by cranking out the old tunes, drinking a few wines over old photos, taking the piss out of your old style (or lack thereof), singing songs, and, best of all, laughing.
9. Belly laughs
Which brings me to belly laughs. There is nothing better than a big, guttural, belly laugh. I've always been a big laugher (okay – LOUD), but these days the belly laughs come so much easier! They are one of the best things ever! And it's true what they say that life is better when you're laughing:)
10. Sleep is a gift
Be it kids, work, health, stress, there is no better relief than a quality nights sleep, especially when you wake up feeling rested and refreshed the next day ready to take on the world!
11. Honing your palette
By exploring different foods, wines, and more, I am enjoying honing my palette, something that was very sheltered in my first 26 or so years of life. Sure it's resulted in a few added kilos and an additional dress size, but I'm so much more relaxed these days in what I eat and drink.
*Handy Tip – Pinterest is GREAT for all things food inspo. Check out our Recipes to Do board. I never thought I'd become so domesticated AND enjoy it. I even cook up a storm on the odd occasion I'm allowed in the kitchen.
12. It means a bigger cake
Seriously. Who doesn't like cake?
For one of my future birthdays I have my heart set on a donut cake. I am salivating as I write… donuts urgrgh.
13. You're blessed with another day on beautiful Earth
At 36, you're reminded that life is too short more than needs reminding.
Whether it be by the end of a friendship, the loss of a family member, or the ageing of your body, it all adds up to make the day-to-day shit pale in comparison. Seize the day people, that's all I really have to say! After being blessed with another year, month and day on Earth, I try to live it to the fullest in dedication to those who had to leave the party way too early. It's the least I can do.
14. Exploration
I have travelled to places on my bucket list, and other places I had never dreamed of going. I've met amazing people, eaten yummy – and not-so-yummy – foods, explored historic sites, seen breathtaking art, and walked in the footsteps of my ancestors. This thought makes me incredibly happy.
15. The sanctity of me-time
There is nothing better these days than a couch day, or even an evening on the couch with a good movie and some chocolate, and I have no shame to admit it. These days I prefer to the comfort of my home over hitting the pubs or clubs… sure, I may seem like a grandma, but hey, I think I've done my time in the clubs AND my body thanks me for it.
16. You gain more and more life experience
It's a given. You have notched up 36 years of life experience. Nothing can replace that! 36 years of life experience also provides you with a lot of fodder and advice to be shared with others. Do your best to give back and become a mentor, share some words of wisdom, write something. Just don't be preachy!
17. Contentment is no longer terrifying
Hmmm! I never saw this one coming! The mere mention of the 'C' word  used to strike the fear of god in me, but the realisation that has recently struck me is that I love it! I love my home, I love my dog, I love my relationship with my man and my family. I like my hometown, something I spent what seems like a lifetime trying to escape. I'm also more than happy with the small things in life, those little things that help make me content. A good book, a hot coffee or a glass or red wine.
18. Good friends
The friends you have now are your REAL friends. It's no longer about being part of the 'cool' group. Time is valuable and should be reserved for real people who appreciate you for who you really are and vice versa. If this isn't happening you need to sit down to have a big think and make some choices about who you should be spending your time and energy on.
19. Ditching the baggage you gained in your first 35 years
By the time you've hit 36 you've hopefully started to throw out that excess baggage you've been towing around (and I'm not talking about those extra kilos you may be towing on your hips and ass). No. It's time to get rid of the baggage. Where does it get you anyway? We all have baggage but we have a choice as to whether we let it weigh us down or not. I feel so much lighter these days!
20. Developing a sense of self-awareness
Your 30's is all about developing self-awareness, and this doesn't stop at age 36. Who you are, what you like and don't like, who you love, what you want to spend your time doing, your career, your sense of style, your confidence, what makes you tick, why you are who you are… there is something beautiful about gaining self-awareness, and it's important not to stop!
Need further convincing that life in your 30's isn't that bad?
Check out:
37 Reasons Why I'm Celebrating Turning 37
38 Things I've Learned in 38 Years
Want more like this? Subscribe to my weekly newsletter!