I've been caught up in the whirlwind that is life, which has shown no sign of slowing down, and so I've taken matters into my own hands and booked off some time to focus on self-care and self-discovery. This is also the perfect time for writing, reflection, and a touch of gratitude.
Love
I've experienced a lot of highs and lows lately…well, more lows than highs, but who's counting right?! That is why I am especially grateful for love – for both receiving and giving love. From a beautiful message left on my message bank by a former client-come-friend just at the right time, to walking into the house to a warm heater, glass of wine and hearty meal prepared by my fiancé D on what was the shittiest day I have had in a long time, to grieving for a colleague whom I had only known for a little over a month, to finally being able to open up and start expressing how much people mean to me. Oh, and then there's the wedding planning. I never thought I could feel so much love, but to be honest with you, I had closed myself down to it following a series of hurts (in mental health land they call that 'numbing'). Opening my heart up once again scares me, and I must admit that I am feeling very raw at the moment, but my heart is also swelling with the feeling.
Autumn
Even though I hate the cold more and more every year, the few hours of warmth and sunshine in the middle of the day are a blessing, warming up my hands and body as I move around the back yard with my laptop, following the sun. And there is just something about the trees as their leaves slowly dry and fall. I took this photo at the Fremantle Arts Centre a few weeks ago. The scene caught my attention as the sun filtered through the leaves of these stunning trees, and I was so inspired that I grabbed my iPhone to capture it. I miss my photography and this was a welcome reminder of why I love it so.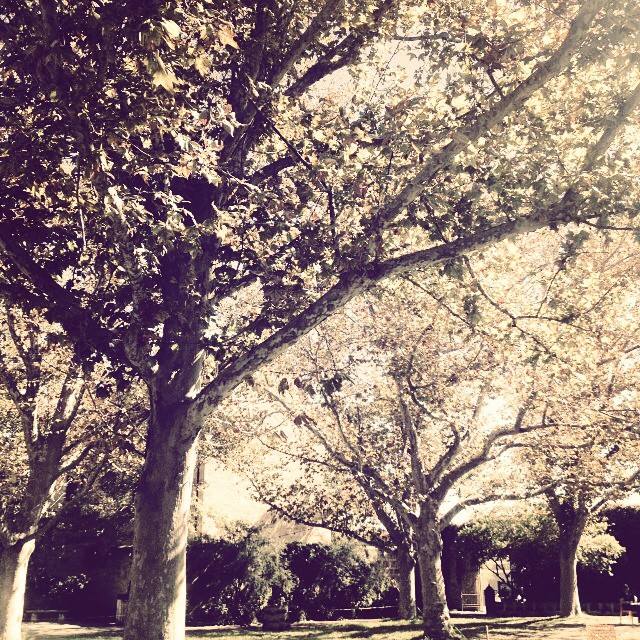 Mental Health
Last week I spoke at a Youth and Family Mental Health Forum, which was supported by Ascot Rotary Club and the beautiful people at CLAN WA INC. I had such a wonderful time after the initial surge of nerves, and was surprised in the end at how natural the microphone felt in my hands (didn't see that one coming!), as well as how alive I felt afterwards.
At the end of the night I also sat on a panel, fielding questions from the audience on all things mental health. One of the questions from an audience member on the night was this:
"If you could go back in time, would you change it…would you NOT have a mental illness?"
I surprised myself by quickly grabbing the microphone to respond without a seconds thought. I said something to the effect of this:
"I can genuinely say that I would not change it. Sure, I've experienced some crappy things BUT I would not change it for the world because it has made me who I am today, it has allowed me to see how special life truly is, and it has provided me with the opportunity to give back through sharing my story, for if I can help just one person then it has been worth it."
And I meant every word.
What are you grateful for this week?
P.S. I make gratitude a regular habit. Check out some of my other posts:
Join our list
Subscribe to our mailing list and get interesting stuff and updates to your email inbox.